?
Ready to Make Someone's Day?
Big greetings, bigger smiles!?
?
SG City of Lights makes ordering your yard sign super simple, & we take care of everything for you! A yard greeting includes a personalized phrase, delivery, set-up, & pick up. Coordinating graphics and stars add the perfect finishing touch to your custom greeting!

We would love to help you celebrate Birthdays, Birth Announcements, Gender Reveals, Welcome Home, Graduations, Engagements, Over the Hill, Prom/Homecoming, 1st Day of School, Making the Team, Sports, Congratulations, Open House, Festivals, School Events, and Community Events.

You can book by simply clicking "Ready to Make Someone's Day" below, or feel free to contact us with questions. ?We look forward to hearing from you!
Do you have a special requirement?

Let us know!
The more details we have, the better?the result
How it works
?
YOU PICK THE DATE AND MESSAGE
Who or what are you celebrating in a bold way? Your message is totally customizable.

WE INSTALL THE CUSTOM GREETING
You don't need to lift a finger. We'll take care of everything!
THEN WE TAKE IT ALL DOWN
When we remove the signs, all that will be left are good memories.
Our Story
About Kara & Louise
When Louise approached me about a business opportunity that she had in mind we sat down and really thought this through. Our experience working together on parent-teacher league was nothing but positive. We were looking for something that would fit around our family since we are both stay at home moms, and that if we were to go back to work would be a rewarding experience. Bringing smiles to someone's face and joy into someone's heart is what feeds us both. We also have a craving to give back to our community, and to organizations, we are involved in such as church and school.? Since we began, we have had nothing but fun. Who wouldn't want to create a schedule around their family, be creative, spend time with their best friend and make a few extra dollars? You can join the fun by letting us design a custom yard sign for you and following our journey on Facebook and Instagram!

Kara and Louise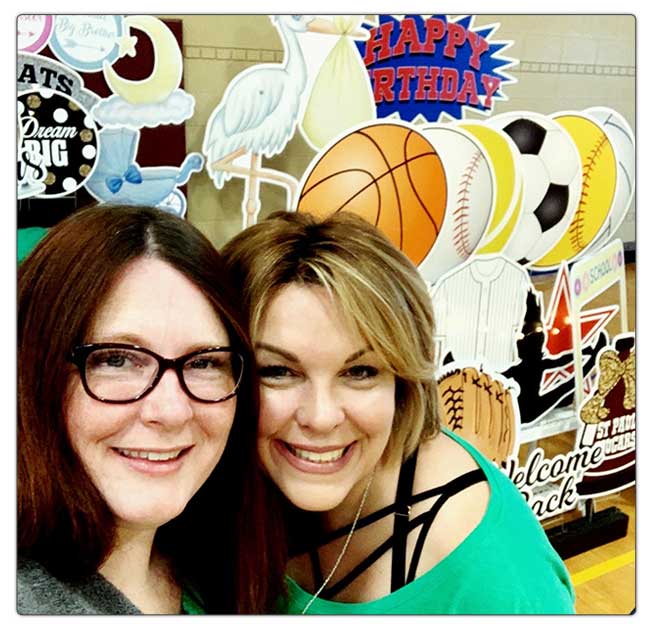 Birthdays
Special Occasions
Birth Announcements
Welcome Home
Graduations
School Events
Sports
Festivals
Community Events
Book Fair
Golden Birthday
Graduation
Teacher Appreciation
Trunk-or-Treat
Grandparents Day
School Dance
Returning Soldier
Charity Races
Company Picnic
New Business
Homecoming
Open House
Baby Shower
Wedding Shower
Baptism
First Communion
Back to School
FunRun
Medical Milestones
Family Reunions
Proud members of these
local Chambers of Commerce
---

?
Naperville Chamber